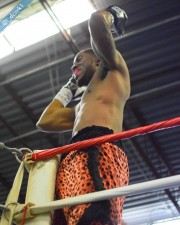 On Saturday November 14th 2015, I had the pleasure of attending a Jeter Promotions card featuring many up and coming pugilists. Among them, "Young General" Ian Green won his bout in impressive fashion with a first round knockout. While his opponent was nowhere near world quality, Ian showed impressive skills.
Springfield, VA, November 25, 2015 (Newswire.com) - I was able to have a few words pre and post-fight with Ian regarding his preparation and future plans. "Even when I don't have a fight scheduled, we stay in the gym, I stay ready." Ian responded when asked about preparation on short notice. The fight was scheduled a week earlier. "I keep my weight under control and try to stay within a few pounds of the limit." On the night of the fight, his opponent outweighed him by 15 pounds or more. Green wasn't fazed by this weight discrepancy, showing a solid jab followed by body shots to keep his opponent at bay. Shortly thereafter, the outmatched fighter found himself on the canvas due to an accumulation of punishment and unable to continue. The bout was halted at 2:04 in the first round. "We are planning on stepping up in competition, this fight was to stay busy and get in some work in the meantime." Green stated after the fight, "I want to work on my jab more, that's important at the higher levels of competition." He said, regarding improvements his team is working on in the gym, "We are conditioned to go the distance if necessary, but will take the knockout if it's there." Green is scheduled to appear in under a month on December 11th against an opponent to be determined. His management team, New Jersey's Kran Sports, plans to keep him active and build up his experience, and competition level.
"Ian's strategy was to 'establish the jab' and he did that very well. This guy had a mouse under his eye after just four jabs. He did a wonderful job tonight. The final instructions I gave him in the locker room was to take this guys heart from the start; make him not want to fight anymore and he did exactly that. It was devastating what Ian did to his opponents face in just two minutes. Ian is maturing. He's starting to get mean. He's got that kill switch right now so we want to keep feeding him."

Dwyke Flemmings, Trainer
Thank you for taking the time to read my article. Please follow me on Twitter @TheGreatToddman. I would love to hear your opinions and talk boxing with you.
Share: