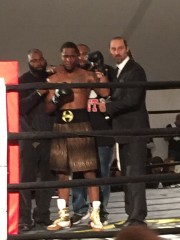 The "Young General" Ian Green improved his professional record to 7-0 with 5 KO's on Saturday September 26, 2015. Fighting on the H.I.T.M card in Beach Haven, NJ Green took on K Lon Spencer in the much anticipated "Boxing by the Beach" event. The "Young General" did not disappoint his loyal fans who flooded the venue wearing their red "Young General" T-shirts which were provided by PG Sports.
Beach Haven, NJ, September 30, 2015 (Newswire.com) - Famed ring announcer David Diamante's introduction of Green was met by a raucous ovation from the crowd. It was clear who these New Jersey fans had come out to see!
Green spent the opening rounds of the fight firing his piston like jab and ripping hooks to Spencer's body. His jab found a steady home on Spencer's face which was swollen and bloodied by the end of round two. Still, the Texas native Spencer continued to fight and move forward but Green was too much. The "Young General" imposed his will on Spencer in the fourth round. A thunderous left hook to the body crippled Spencer who was soon knocked to the canvass by a sharp left hook to the head. Spencer was unable to climb to his feet and Green had delivered the impressive knockout his fans came to see.
"Ian made great progress in his development. He showed tremendous poise and patience. He slowly broke his opponent down and took him out."

Dwyke Flemmings, Trainer
In an interview with ResSports.com after the fight the "Young General" explained his game plan to "establish my jab and break him down" with body shots. Green said it is preached to him during training, "If you go to the body the head will fall and that's what happened."
Even with the victory in hand Green's work for the night was not finished. Before leaving he signed autographs and posed for pictures for each and every one of his fans and supporters. Fans young and old excitedly waited their turn to meet and have a moment with this boxing phenom. Green graciously thanked all of his fans for their support of his quest to become a world champion. Tony Almeida of Millstone NJ was one of these fans. Almeida sat ringside and met the "Young General" after the fight. "I could barely congratulate him on the win because he only wanted to thank me for being here" Almeida said. "That kid is going to make it. The crowd loves him."
To learn more about Ian Green follow him on Twitter @iangreenboxing and visit his website: www.iangreenboxing.com.
Share: