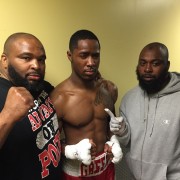 New York, NY, June 3, 2015 (Newswire.com) - It was a busy month of May for middleweight prospect Ian Green. Some might say maintaining a grueling training regimen in his quest to become the middleweight champion of the world is enough to keep this 21 year old phenom busy. Not Ian!
Ian's life outside the ring is equally important to him. The month of May marked Ian's completion of his first semester at Passaic County Community College where he is pursuing a degree in business. He proudly finished this semester with a 3.0 grade point average. In the midst of his training and studies Ian still devotes his Monday and Friday mornings to the senior citizens of his home city of Paterson, NJ where he volunteers at the Department of Senior Services.
Ian's life and his commitment to his community sparked the interest of the ABC television show "Sports Stars of Tomorrow." The shows producer and crew visited Ian at his gym on May 13th and he will be the first boxer to ever be featured on the show when the segment airs later this summer.
The Young General finished up the month of May with his fifth professional fight. Green, 5(4)-0-0 scored an impressive TKO victory over a game Bruce Runkle (5-6-1) on Saturday May 22nd at the Wheeling Island Casino in Wheeling, West Virginia. Green attacked Runkle's body in round one before unleashing a vicious attack to the head in round number two. Green sent his opponent to the canvass with a devastating overhand right.
Jason Umlah, General Partner of Green's management team, Kran Sports and Entertainment Management, commented that "Runkle went down with the force of a heavyweight."
A wobbly Runkle staggered to his feet but the referee mercifully stopped the fight at 1:09 of the second round. Green said after the fight he was able to identify his opponent's mistakes and he "made him pay for them." Green's trainer Dwyke Flemmings was very pleased with his young fighter's performance. Flemmings said after the fight, "The scary thing about Ian is that he has tremendous power in his left hook and overhand right. Ian doesn't yet appreciate how strong he is."
To learn more about Ian Green visit www.iangreen93.com or follow him on twitter @iangreen93. To contact Ian's management company visit www.kransports.com or @kransports.
Share: